Regulatory Content for SAP EH&S update services
Using the Regulatory Content package for SAP EHS Product Safety ?
Fighting to have quick, effective, high quality updates ?
We update for you the SAP EHS Regulatory Content for all providers especially (but not only):
Verisk 3E (3E ERC, previously SAP ERC or SERC)
Sphera (DataLink and Compliance Engine).
Many companies using the SAP EH&S Regulatory Content for Safety Data Sheet authoring are lacking skilled resources to execute the bi-annual Regulatory Content updates. This can result in a significant risk of sending non-compliant SDS to customers.
Entrust these ERC updates to eSpheres. We will do it for you.
Our service includes, among others:
Analysis of the impact of the ERC update
Alignment of property trees with the latest updated data model (classes & characteristics)
Installation and alignment of phrase catalog, phrases and phrase sets to the most recent ones.
Deployment of new regulatory content for substances & dangerous goods on customer servers or PC (using SAP OCC or eSpheres Fast-RCC )
Review and update rules, install or write new rules (SAP EHS Expert or Sphera ACE)
Review and update standard and customer templates (SAP EHS WWI).
Assume the fine-tuning of the customer SAP EH&S landscapes
Depending on the distribution of responsibilities between you and us, we proceed a typical major update for chemical company in between 3 to 4 weeks, with disturbances in your Production system limited to a couple of days, including update of all substances (list_sub) data !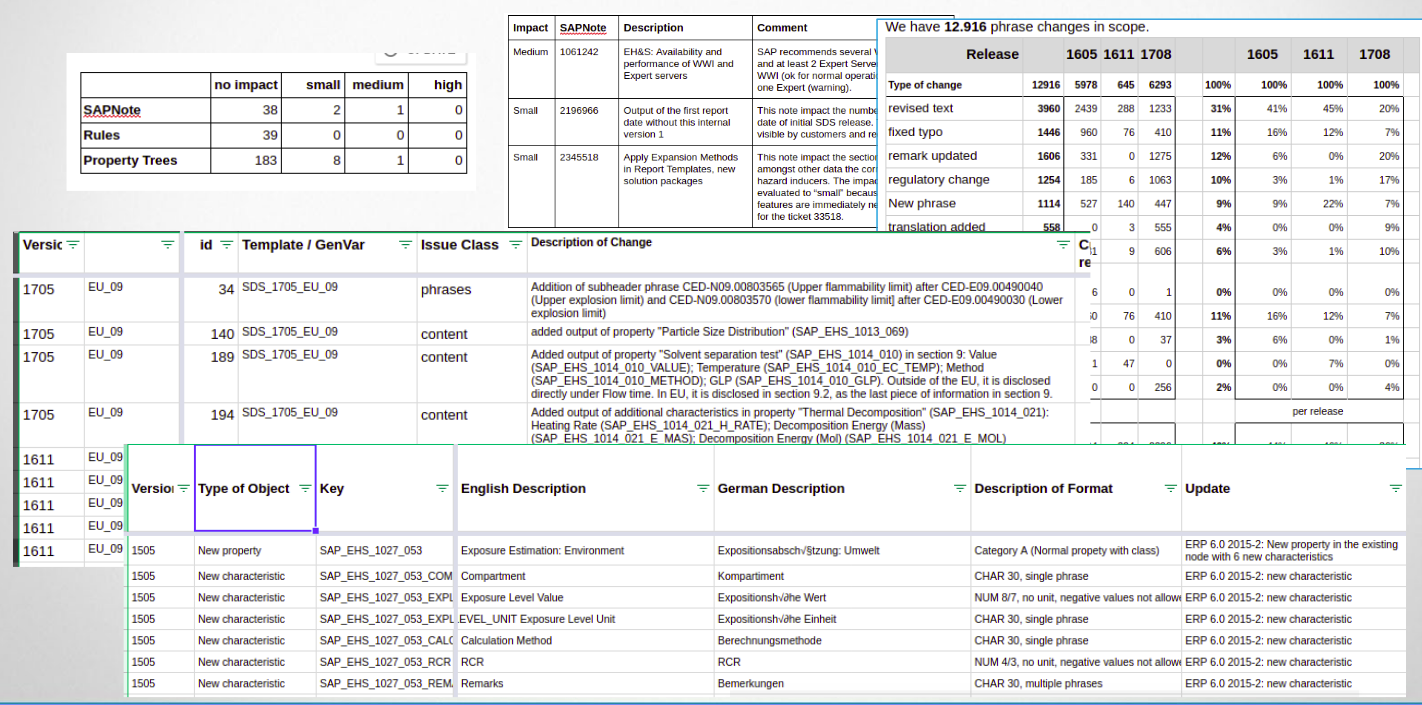 For 3E ERC, we extract and compile data many sources in the Regulatory Content package to provide Technical Impact Analysis on-line reports to our customers in order to ease access to the package content. This is critical when several packages have to be installed together.
Contact us for an example.
(click on image to enlarge it)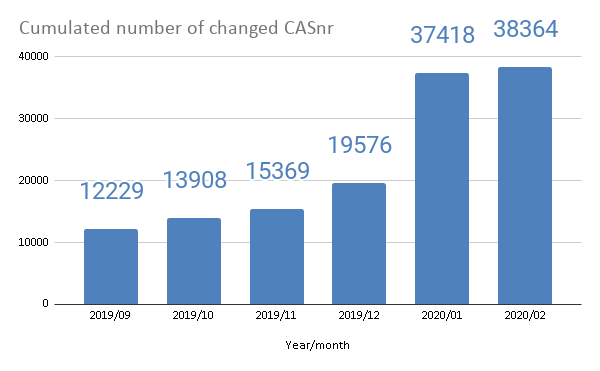 Regulatory Content packages bring updates of substance data (identified by CAS nr). Here the cumulative number of changed substances by the 20xx releases of 3E ERC. More changes mean higher probability to be impacted by these changes. You want to know the impact on the chemical substance you are being using ? Contact us.
(click on image to enlarge it)